Written by Jibblescribbits | 19 December 2009

The Avs recently took their yearly trip to the Children's Hospital in order to torment some sick little kids. The Avs even photo this and use it as propaganda, luckily I was there to document it.

The Avs take time to taunt this little kid while he's in the penalty box
Don't feel bad for the kid though, he actually got a 2:00 instigator for taking Bernie from TJ Galiardi.

This kid is reacting to McLeod mistaking him for the main prop in his Ventriloquist act.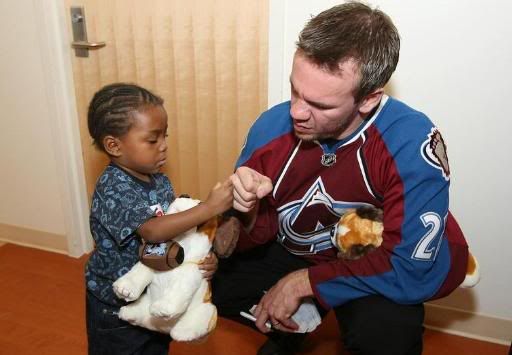 Scott Hannan makes a deal that will secure himself 100 Bernie Dolls.
As you'll see in the following pictures, Avs players will do almost anything to get their hands on one.



Chris Stewart looks to score himself a Bernie Doll at the expense of this kid, who guards it carefully.
Meanwhile Darcy Tucker tried to hypnotise everyone by looking into their soul. .

After being thwarted by one kid above Chris Stewart brazenly swipes a Bernie Doll from another as his teammates cheer him on. CHRIS STEWART IS A MENACE AND MUST BE STOPPED!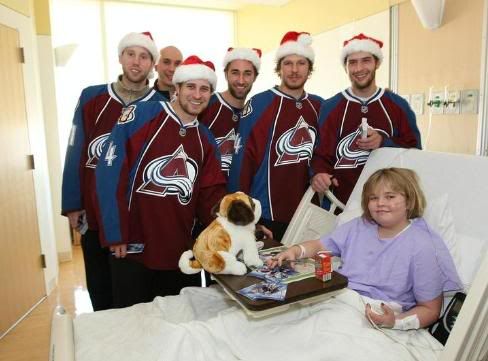 John Michael Liles gives modeling pointers to some of his teammates.
He then takes on Craig Anderson as his "special makeover project"



John Michael Liles, Matt Duchene and company taunt one sick little kid by giving another injured little kid a jersey.
In all seriousness this is a wonderful event that the Avs do every year. I might get upset at the Avs for improperly marketing their stars or loud music, but this annual trip to the Children's hospital, and their other charity work around the city, is something the Avs do right. All the photos can be found on the Avs main site.